New ElectroRings
The New E-Stim Systems ElectroRing System has now been launched!!. Not just a simple electro based cock ring, the ElectroRing System allows you to lock two rings together to produce a BiPolar ElectroRing, giving you electro cock play with a hint of chastity - and it even comes with a 'locking' option - you will need the supplied tool to remove.
Rings come in sizes from 30mm up to 65mm, and feature heavy duty double sided 4mm sockets giving you even more flexibility - and you don't need to use the system all the time, you can use a single ring as a more traditional cock ring, or combine it with another electrode.
NEW ABox Mk2
We have taken our original ABox, originally designed back in 2006 and added a touch of magic, making it smaller, more powerful and easier to use - meet the new ABox Mk2. Now you can not only listen to music, you can feel it!!
New E-Stim Remote System now available
The New E-Stim Remote System is now out. You asked for more power and more control and now we have given it to you. With 27 power levels, 10 modes, dual motion modes and now new audio modes, combined with even more POWER, the new E-Stim Remote System has proved to be a hit with our test team during development. Why not see what all the fuss was about.
The E-Stim Connect Pack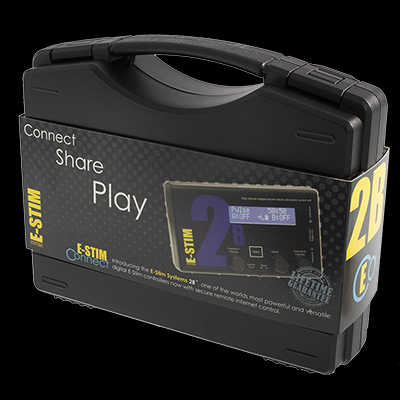 With the release of the E-Stim Connect system, we have now created the E-Stim Connect Pack, all the e-stim goodies you need to run E-Stim over the internet. A 2B, the digital link Interface and all the software and e-stim accessories. Connect within minutes to the secure E-Stim Connect system and you can be playing with a partner from anywhere in the world - all they need is access to a modern web browser.
The Black Collection
The latest additions to our Premium Electrode range are here. The stunning and highly anticipated Black Collection. Four electrodes, Small to XL, based on the highly popular Bobble, but with extend sizing and our Luxurious Satin finish.
The 'Double Bobble' head design allows the electrode to be inserted in two different depths - insert up to the first neck to feel the sensations around the entrance, take it deeper for more intense internal sensations.
ElectroHelix™
Meet our ElectroHelix™. Originally created from the 'DNA' of our original classic Series 1, the ElectroHelix offers everything the Series 1 did, but with more power and more programs, but all in a smaller lighter package.
The ElectroHelix is also available in two Intro2Electro Bonus packs, the Helix Blue Pack, with an ElectroHelix™ and Conductive Rubber Loops, and the Helix Red Pack which combines the ElectroHelix™ with a satin finished Electro Egg - perfect for internal play for both him and her.
ElectroPebble®
The ElectroPebble is our Dual Channel 9 Program mode powerbox that includes Audio, and is also available in two Bonus packs, the XPE Pack with an ElectroPebble, Conductive Rubber Loops and a medium Electro Egg, and the XPF Pack which combines the ElectroPebble with Conductive Rubber Loops and a Flange Electrode.
Lifetime Guarantee
Because we really do care about offering excellent service and fantastic electrosex products, ALL of our power units, and ALL of our premium electrodes are not only designed to the latest safety standards, but are also covered by our own exclusive lifetime guarantee.